We got a phone call from Uncle Jack today on the west coast. Word is Uncle Bob went home today after succesful facial surgery and is doing well. All of this is being done were told, in preparation for his trip out to California next year. Wanting to look his best when he's this close to Hollywood I suppose! Get well soon!
DJ has been admitted into the University Medical Hospital for the second time this month. He is fighting an ameba that is reeking havoc on his intestines and could lead to colitus. Can you believe that this kid has lost over 40 pounds in the last month? All this because of Grandpa Jack's curse! Get well soon, too!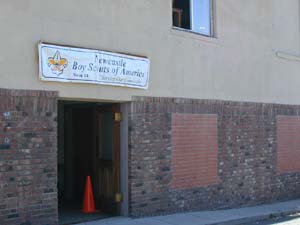 Boy Scout Troop 13 was out in full force this Saturday morning. From 7:00 a.m. to 11:00 a.m. they cooked up a few thousand pancakes, eggs and sausages. Tickets were $5.00 a piece with all profits going to the September 11th relief fund.
Scot Brown was up at the crack of dawn with the other scouts, getting the fund raiser off on the right foot. Kathy and I showed up at 9:00 a.m. and I ended up having seconds of everything. Scout Sean Brown didn't make the early call with his father, but did manage to roll in with the "always early" Ann Brown, about ten minutes before closing.