---
| | | |
| --- | --- | --- |
| LOOMIS, CALIFORNIA | APRIL, 2002 | VOLUME VI |
---
CURRENT MONTH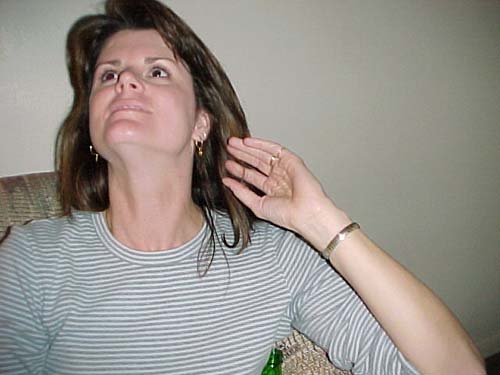 JUST WHAT SHE WANTED!
Tracy made the mistake of telling me she did not want her picture on the web. So of course that is the first thing I did when I got home. Here's to you Tracy, faithful reader of the Ashley-Malone Newsletter!
---
LOOKOUT COWBOYS!!
| | |
| --- | --- |
| | Out riding the trails of Folsom Lake, you might just come across 12 year old Christina Oliver. In a matter of minutes, she mastered the art of "Whoa" and "Giddy up" riding Jet. Although brother Justin can ride circles around her right now, you can tell she's a natural in the saddle. (Pretty good actress too!) Click here or on the picture for larger view. |
DISNEYLAND!
| | | |
| --- | --- | --- |
| | Kathy, Ann, Melissa, Matt, Sean, Ashley and Danny crammed in the Durango for a fun filled 8 hour drive to Disneyland. Okay the drive wasn't exactly fun filled, but how about three days in Disneyland? Outside of the weather not cooperating, and Sean not being able to go on many rides because of a broken hand, how can you not? Click on the pictures for larger size. | |
Thank you, Grandpa!
| | |
| --- | --- |
| | Before Grandpa Jack left us last month, he left (with mom's help) a nice gift for Tiva and I. Been wanting for a long time to take a little "country" out of the home and pave the driveway. With his gift and nephew Scott Whitman's escavating company "Main Line Engineering", that wish is coming true. Click on the picture to the left for larger size. Will add more as he completes the job! |
CURRENT MONTH