---
| | | |
| --- | --- | --- |
| LOOMIS, CALIFORNIA | MAY, 2002 | VOLUME VII |
---
CURRENT MONTH
HOOP IT UP!
---
THANK YOU FOR AIR BAGS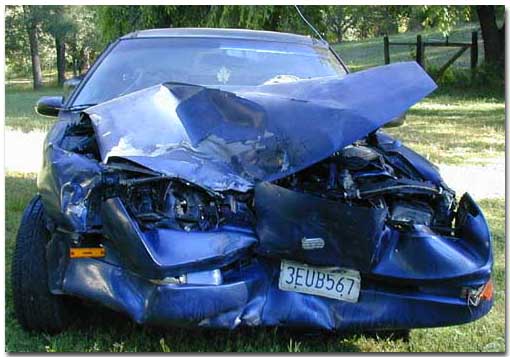 This is Melissa's car after turning in front of an oncoming van Friday afternoon. First of all, except for some minor abrasions, all parties are okay. Apparently Melissa who had Emily Growth in the car with her, was distracted by some adolescent's in a car in front of them as they were turning into the Log Store parking lot. Unfortunately, that distraction blinded Melissa from an approaching van which promptly smacked into her and spun her around 360 degrees. The van driven by a very nice lady and her 6 year old son, then glanced off of an Airgas truck and into a parked car. All four of them were taken by ambulance to Sutter Roseville as a precaution.
---
SMITH, NEVADA.

A one bar, one store town which Uncle Don has his eye on. Kathy and I staying in Tahoe this weekend, visted with Uncle Don and Aunt Jan on Saturday and Sunday. It was Sunday that we went for a drive through the heart of Nevada, eating lunch in Yerington. We hope to make our home somewhere in Northern Nevada in a couple years!

We stayed at the beautifully redone Zepher Cove RV park. Best time of the year to stay there is May and late September. Crowds are gone and you "own" the park. Please click on the picture to the left for a larger size and a view of our site at Zepher Cove.
CURRENT MONTH