---
| | | |
| --- | --- | --- |
| LOOMIS, CALIFORNIA | OCTOBER, 2002 | VOLUME XII |
---
CURRENT MONTH
Click HERE for page 2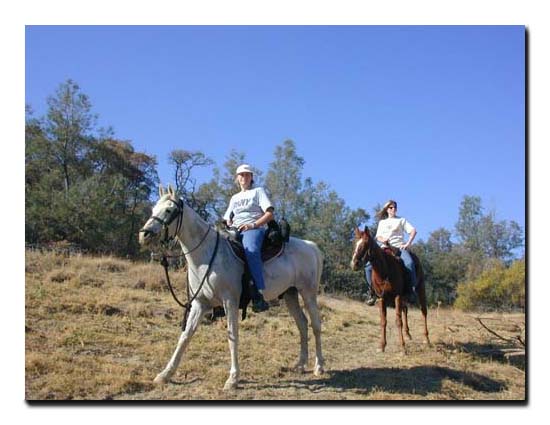 LOOK WHAT I FOUND ON THE TRAIL!
Click on picture above for other photos!
---
| | |
| --- | --- |
| 85 degrees on a perfect October day and I feel like torturing the ol' body today. Had Kathy drop me off at 12:30 this afternoon in Granite Bay , to ride along the lake and meet her and Ann on horseback. They were to leave at 1:00 from our house heading towards me from the opposite direction. | Around 2:00, got the first call from Kathy saying she's still waiting for Ann! That's never happened before. She ended up only two hours behind schedule. It turned out to be more difficult of a ride than I expected. You see, deep sand and bicycles don't mix to well. A 15 mile ride turned into a 5 mile ride and 10 mile walk! |
---
14 YEARS AGO ON ANOTHER TRAIL!
| | |
| --- | --- |
| Got an e-mail today from Mike Kaley with pictures of a little "mishap" that happened along time ago. Thanks Mike for resurrecting those memories! As I recall, Lowell Cook and I went out to buy some lottery tickets and decided to throw in a little wheelin' to boot. Couple of beers and a few hills later, we were on our side in the middle of nowhere. Luckily there was another couple of idiots out there besides us and we spent an hour just getting it back on all four tires. | |
| | With darkness fully upon us, we left the truck their for the night and were driven to a pay phone by our fellow four wheelers. Good ol' Ben came and got us as we hung our heads low. The next day, Ben took me up their along with Aaron Pierce to help. We spent many hours to no avail and left the truck alone for another night. I purchased a high lift jack the next day and Mike Kaley, Ken Dinsmore and I finally got it out. Click on the pictures for larger versions! |
Click HERE for page 2
CURRENT MONTH