---
| | | |
| --- | --- | --- |
| LOOMIS, CALIFORNIA | AUGUST, 2003 | VOLUME XXII |
---
CURRENT MONTH
Page 1 of 2
More news and photos from the East coast thanks to cousin Kathleen Dooley. As usual, the pictures show the leisurely life style that the McCoombs enjoy. It is kind of hard for working stiffs like me to fathom, their vacations on the Cape, Florida, Block Island, etc.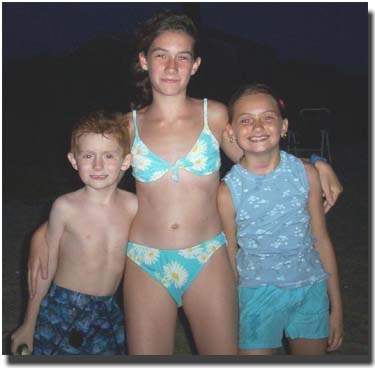 Ben, Kelly and Kayla
Of course, that is why there are "chiefs and indians", "Kings and subjects" and "rich and poor". Alas, we here on the West coast usually fall into the latter. Seriously though, it does look like your having a great summer! Please click HERE or on the picture for Kathleen's comments and other photos!
---
NOT THE MAN I USED TO BE!
Take a look at this sad, disheveled, out of shape fool! On the weekend of the 22nd, we had a memorial for Uncle Don at their Lake Tahoe community club house. Kathy and I stayed on the other side of the mountain, in Carson Valley at the Carson Valley Inn RV park. At the age of 21, I had lived in the Tahoe Valley region and had rode up and down all of the mountain passes as if training for the Tour de France. So with fond memories I took off around 9:00 a.m. Saturday morning. It is relatively flat the first 6 miles to the base of the grade, so even though the mountain loomed ever larger ahead of me, I felt quite confident. MORE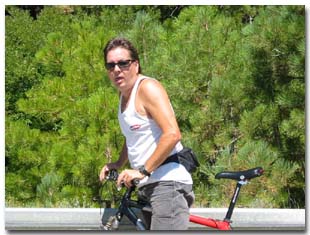 CURRENT MONTH