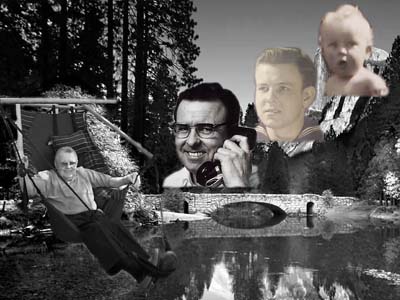 1923 -2003
Click on the links in the text for additional photos.
On July 10th, Don Ryan lost his battle with cancer and passed away at home with Aunt Jan and Mom at his side. He chose to leave us this way at home amongst his love ones versus in a hospital, possibly alone and amongst strangers. He had been in a coma the last day which hopefully made his passing peaceful.
Born to Colusa County pioneers William and Lille Ryan on December 23rd, 1923. He was the youngest of the 5 children (Natha, Norma, William, Edna and Don) and grew up in very modest conditions in Maxwell, CA. They grew and bartered most of their food as I believe a lot of rural families did during the depression years. Riding bicycles with his friends and swimming in the local canals were some of his favorite summer past times.
In 1942, he joined the Navy and fought for our country through the duration of the war. He was a machinist mate that worked deep in the bowels of the ship keeping the motors running. His ship was the Bowditch and was a geographic survey ship. They would sneak up to the Japanese held islands under the cover of darkness and survey the reefs and ocean bottoms for upcoming invasions. After the war was over, he spent a year in Greenland getting to know just what cold is. You can see photos of his war years here.
He was discharged in 1949 and the first thing he did with the money he had saved is purchased a brand new 1949 Plymouth. In 1950, he joined Pacific Bell working out of the shop at 26th and S Street in Sacramento, CA. He started as a lineman and worked his way into management. He left the company after 28 years with the beginning of some of his health problems.
In 1960 I believe, he and his friend Larry were at a club and Uncle asked a gorgeous young lady to dance. He was promptly turned down. Awhile later he took another shot at it and was again turned down. As they say, third time is the charm and it worked for him. Of course her name was Jan Murphy and this was the beginning of a terrific marriage/partnership lasting over 40 years. They are both extremely hard working people and putting that energy to use built a very comfortable life for themselves.
While Uncle worked at the phone company, Aunt Jan worked at Crystal Creamery and they soon began managing the 17th and G apartments they were living in, which they eventually ended up purchasing. In 1963, they had a Dairy Queen (they had a choice between D.Q. and some new franchise called McDonalds) built at 12th and Franklin. Aunt Jan had left the Creamery and did most of the managing of the D.Q., but Uncle after spending long hours at the phone company each day had a full shift at the D.Q. also. They ended up in other business ventures together from Laundromats and antique shops to real estate.
In about 1973, 1974 they purchased a cabin in Kyburz and their present home on Land Park Drive. Uncle more than rebuilt this shell of a cabin into a very comfortable and idyllic place on the South fork of the American River. Their home is a landmark in the Land Park area and attests to the standard of living they built for themselves. The cabin as comfortable as it ended up being had terrible access in the winter and they "traded up" to a very nice home in South Lake Tahoe to cap off a perfect life.
During all this time, Don became an Uncle many times over and began a long history of sharing his time, resources and knowledge with all of us. Like all of his nieces and nephews, we all have our own memories of him, and since this is my web page, I get to tell you mine!
My earliest memories of Uncle Don were when I was around 7 and sitting on his lap steering their red and white Ford Thunderbird around Sacramento. My father had crippling arthritis and Uncle Don filled in some of the roles my father couldn't. When dad passed away, it was Uncle that came to my jobsite and took me to the hospital. He then had a full time job after that. Of course I had "competition" with the Ryan side nieces and nephews along with my sister and cousin Sina, but I took my share of his attention when ever I could.
My first "real" job was working for Uncle Don and Aunt Jan. At 15, I would ride my bike to their Laundromats and clean them up a bit. I am sure I failed miserably, but Uncle never let on. He patiently taught me to take pride in what ever I did, and don't take short cuts. Take your time and do it right the first time. The Kyburz cabin though is where most of him "rubbed" off on me. Enjoying summers their both working and playing, I not only got to know him as a person, but learned many skills and the pride in what I did as I mentioned earlier.
I must also mention the summers we had at his sister Norma's place in the hills behind Clear Lake. Their, Uncle taught me how to shoot guns, drive a Jeep, ride a motorcycle with the extreme patience and responsibility that I hope a little was instilled into me. These times were when I was 12 to 14 years old and before the Kyburz cabin. With 880 acres and being able to drive and shoot, I was in heaven up there.
Of course in life we always get busy, but Uncle would always have time for me, whether it was installing an engine in my '68 Charger or picking me up from the hospital after one of many motorcycle wrecks, he was their. On the other hand, if he needed something, it usually required Aunt Jan forcing him to call me for help.
He had us laughing to the end, with his wry comments and unselfish humor. I hope your memories and experiences with this great man are even a fraction of what mine are. Uncle Don, I hope to see you at the great fishing hole your now at, someday.
---
CURRENT MONTH