---
| | | |
| --- | --- | --- |
| RENO, NEVADA | AUGUST, 2004 | VOLUME XXXIV |
---
CURRENT MONTH
VIRGINIA CITY RODEO!!
Hey, as long as there is beer, I'll go practically anywhere. I mean, look how happy Kathy looks out in her element at the Virginia City Rodeo. Look at me out of my element and the look of sheer joy on my mug! Actually, had a great day in the 'ol town hanging out at the Bucket of Blood as usual! Click on either picture for one more shot.
---
TRAINING CONTINUES........
| | |
| --- | --- |
| | The bravest of the "Killer Kats" aint 'fraid o' nothin. These guinea hens were pretty brave too as they stuck around even after a couple of aggressive attacks by this little guy. By the way, they already have a couple of mice to their name! Paying for their room and board! |
---
COWGIRLS!
Look out pardners 'cause we have two cute cowgirls training for the trails! Jessica (up front) and Ashley have been riding on a regular basis under the tutelage of their instructor, Kathy. It won't be long and you'll see these two riding on the roads leading to the lake. Click on the pictures for additional pictures.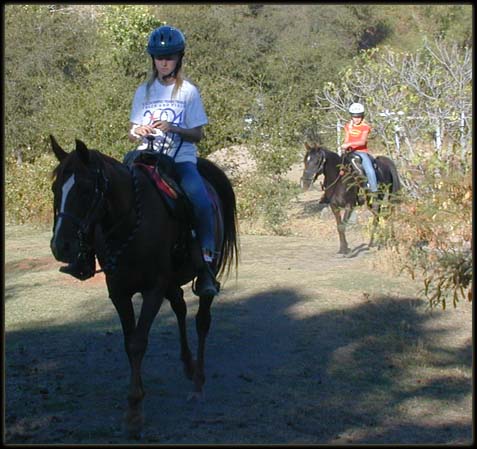 ---
CURRENT MONTH