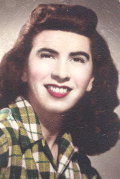 SANTAGATA, Constance
Jan 10, 1923-Sept 25, 2006
(Sina's words) There are two types of people in this world, the takers and the givers. The takers may eat better, but the givers sleep better. My beautiful mother, Constance (Connie) Santagata was a giver. She will be deeply missed by her family and friends. Mother was preceded in death by her parents, Francesco and Alfonsina; sisters, Anna (Nonnie), Helen; brothers Liberato (Sandy), William, Joseph; and dear nephew JoJo. She is survived by her only child, Sina Helene Santagata; sisters, Evelyn Santagata and Alice Tulumello of Connecticut, Viola Mattucci, and Frances McGrath of Florida, and many loving nieces and nephews in our large Italian family. Mother was born in New Haven, Connecticut and served proudly in the U.S. Air Force stationed at McClellan Air Force Base. She was an Activity Director for 30 years, bringing joy and happiness to the patients and their families. Her kindness, humor, and spirit will always be remembered. I extend my deepest appreciation to the doctors, nurses, and staff at Sutter General 4 East, Sutter Midtown, and Sutter Memorial Cardiac Intensive Care for your care and kindness. No services will be held. Rather, to honor the spirit of Connie, hug your child, be kind to animals, read a good book, and listen to the opera. Grandma and Aunt Helen, I give you my mother now to take care of for me. I will miss and love her each day of my life. Published in the Sacramento Bee on 9/30/2006.