Back to current month
HE'S IN THE ARMY NOW!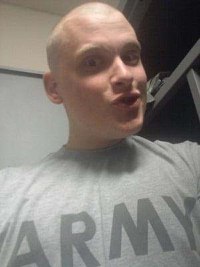 (April 13, 2012) Here he is from Georgia Fort Benning with the Kojak look. Click on pic for more.
HAPPY EASTER!
(April 8, 2012) Looks like Kylie, Rylie and Wyatt got their quota from the Easter Bunny. I borrowed these pics from Facebook. Click on pics for larger images.
TWO BROTHERS, TWO NEW JOBS!
(April 8, 2012) Danny Brown is on his second week at Burger King and brother Sean Brown is on his way to the Army Reserves. Stopped by BK and got some shakes while bugging Danny. Sean after a week of going away parties left with one last one on Sunday. Click on picture for video and more pics.
THIS IS SOCCER 15 YEARS AGO!
(April 1, 2012) Here are a few more clips from some of the old VHS tapes I have been putting on DVD. The first clip is Melissa Ashley with Michele Rost. The second is Justin Oliver having a ball hit in the wrong place and the third is of Matt Ashley. Click on picture for video.