WE ALMOST DIED!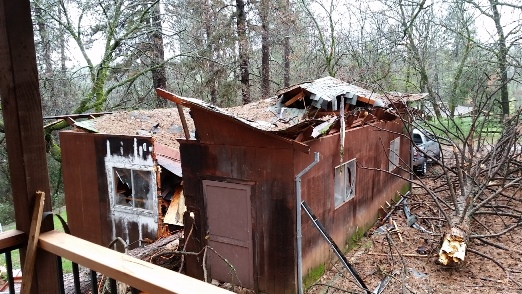 (February 18, 2016) Kathy and I went to CA to pick up Lowell and Millie to bring them to GSR where we would celebrate Lowell's 80th birthday. The night before picking them up we decided to park on Sean's property to see the progress he had made on remodeling his house. It was a rainy and very windy night. While sitting in the camper, we suddenly heard a very long, loud crashing noise outside and things began falling on the roof. As I stepped outside to look on the roof, Kathy went around the side of the camper and yelled, "Mike a tree has fallen!". 3/4 of a 150 foot Fir had fallen breaking in half mid air with one half crushing the garage and the other half landing on the side of the garage. If the tree had stayed together it would have landed square on top of Kathy and I! Click on photos for more pics.
PRESIDENTS DAY WEEKEND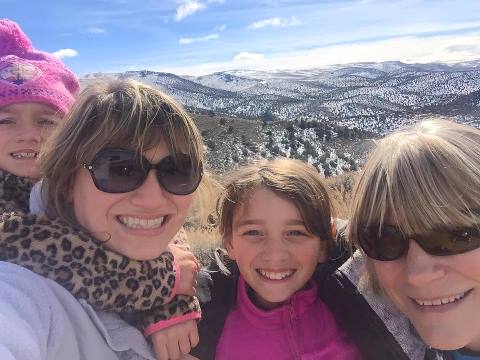 (February 14, 2016) . Jeff drove Jenna and the girls up for Presidents Weekend where we barbaqued, rode the toys and played. Danny, Jill and our neighbors Steve and Heidi joined all of us for a Sunday night barbaque. Click on photos for more pics.
HORSES AND ANTELOPE
(February 9, 2016) Wild horses in the suburbs of Dayton and on our hill. Antelopes also hanging out on our hill too! Click on photos for more pics.

i
JENNA IN RENO AND STANFORD!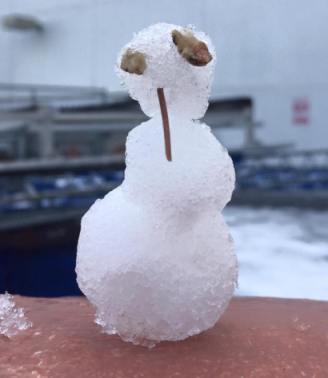 (February 3, 2016) Jenna flew into Reno last Friday working for Southwest Airlines. We didn't have much snow Saturday when her and Kathy made a snowman, but Sunday we got dumped on as we came over the hill to pick up Ann for her 1 year anniversary check up. Everything went well and Ann has a perfect heart and kidney. Jenna met us at Stanford both Monday and Tuesday, while Purity and Havyn joined us for dinner Monday night. Click on photos for more pics.