HELLO TEXAS!
| | |
| --- | --- |
| (June 26th, 2019) After working our way from Rhode Island to Pennsylvania to look at a new RV that was not up to par, we headed down to Texas to re-look at one that we saw in April. After test driving, poking and prodding we made a verbal deal and looks like will be ready for us this Friday. In the meantime we are visiting with Patrick and Marita! Click on photo for more! | |
GOODBYE RHODE ISLAND!
| | |
| --- | --- |
| | (June 17th, 2019) Today is our last day in Rhode Island and we spent the last week with Ann seeing more family, boating and playing before leaving. Click on photo for more! |
REVOLUTION BAR AND MORE BASEBALL!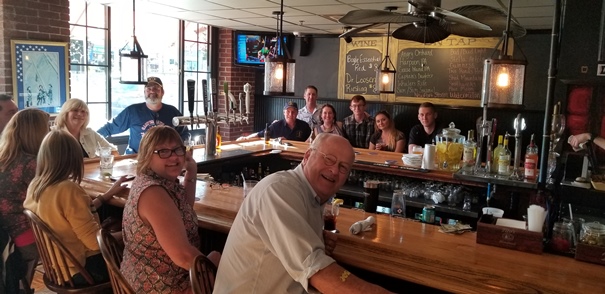 (June 12th, 2019) Large gathering of Dooley's at Adams's Revolution Bar yesterday. We took up the entire bar area bumming out locals that would come in and not see an open seat for them! Today we went to Ayden's championship playoff game which they won! Click on photo for more!
GASPEE DAY PARADE!
| | |
| --- | --- |
| (June 8th, 2019) 54th running of the Gaspee Day parade commemorating what really started the Revolutionary war. So many cousins there it should be the Dooley Day parade! Click on photo for more! | |
ASHLEY'S IN FOSTER!
| | |
| --- | --- |
| | (June 7th, 2019) Ashley drove down from Maine and joined us here in Foster at our Ginny B campground campsite. Been hanging out at the country club alot too! Click on photo for more! |
GRADUATIONS, BIRTHDAYS AND KIDS!
(June 7th, 2019) East coast we had Allison graduate and West coast it was Kylie on her birthday! Also pictures from the West coast happenings. Click on photo for more!
SMITH APPLEBY HOUSE
| | |
| --- | --- |
| (June 2nd, 2019) Here we are again being surrounded by the history of our country going back 300 plus years! This HOUSE is no exception being first built in 1696! That's just 11 years after the CRAIG part of our family arrived in New Jersey. Click on photo for more! | |