DALE'S BACK ON THE WEST COAST!
| | |
| --- | --- |
| (October 30th, 2019) After spending the last 6 months with Ashley on the East coast, it was time for Dale to go to his other parent Zach on the West coast. Uncle Jeff arranged for a load back there to pick him up and then arranged for a load back here to deliver him. It started out well the first day or two, but then the roads turned bad in PA and that started turning him on traveling in a big rig. By the time he hit the West coast he was done being a trucker! Click on photo for more pics. | |
NOT AGAIN!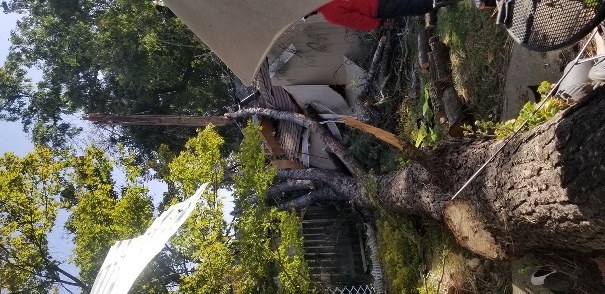 (October 27th, 2019) Wow trees can do some damage when they come down, just like 3 years ago at Sean and Mariah's. 4:30 in the morning Moms power went out and when daylight came she found out why! This was just a limb off of the tree that still looms over her house. 4 years ago they tried to get the tree taken out because of what could happen if it fell and the city of Sacramento said no because it is a "Heritage" tree. 50 years ago when we moved into this house the tree was MUCH smaller and certainly not a "Heritage" tree then. Hate to think what would have been the results if this limb had fallen on the house. Click on photo for more pics.
TAHOE!
| | |
| --- | --- |
| | (October 24th, 2019) Although it was chilly, you can't beat spending 5 days camping in Tahoe. Scot and Ann met us there and between campfires, drinks, beach time and views we had a great time! Click on photo for more pics. |
TOMBSTONE!
| | |
| --- | --- |
| (October 12th, 2019) Our 4th visit to this town and again we had a great time. Hanging with the locals at the Four Dueces Saloon and revisiting the tourist stuff. Click on photo for more pics. | |
FRISCO!
| | |
| --- | --- |
| | (October 7th, 2019) Staying at Hidden Cove Resort again in Frisco on our journey of bringing Lowell back to Wetumka. We love the park and enjoyed our visits here. Click on photo for more pics. |
BRINGING LOWELL BACK TO HIS ROOTS
| | |
| --- | --- |
| (October 6th, 2019) Lowell is now back where he grew up in Wetumka. Kathy, Jenna and I made the trip up from Frisco, TX while Melissa, Matt and their mother made the trip from Sacramento to bring him here. It was a nice service with military honors. Afterward family and friends had a nice visit at the local community center. Click on photo for more pics. | |
WOW!
| | |
| --- | --- |
| | (October 1st, 2019) Every parents nightmare, getting a call that one of your kids have been in an accident. On his way to work, Bo fell asleep at the wheel and slammed into a parked trailer. Broken ribs, pelvic bone and torn spleen are some of the injuries, but thank God for the protection of modern vehicles. Click on photo for more pics. |
WE MEET AGAIN!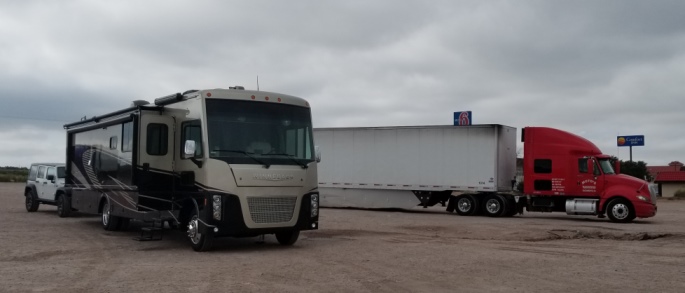 (September 30th, 2019) Left Las Vegas on last Friday the 27th staying first at the KOA in Holbrook, AZ, then Route 66 casino in Albuquerque, NM. Left there today and met Jeff in Santa Rosa, NM so he could have a bologna sandwich with us. Now we are at the Fort Amarillo RV park in Amarillo, TX and it's pouring rain! Click on picture for more! (Also just found out that Bo was in a serious accident rear ending a semi. Going to be a long recovery but should be okay.)