HAPPY SAINT PATS!
| | |
| --- | --- |
| | (March 17, 2014) The Murphy in me and the Dooley/Kenneally/Malone /Sullivan in Kathy comes out on this day in March. We tried for our pot of gold at the Grand Sierra and not finding it took our party home and finished the day off in style! Click on photo for more! |
DE JA VUE!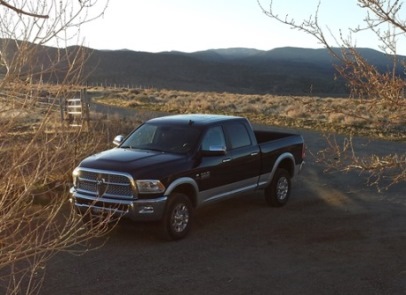 (March 16, 2014) It's been almost 9 years and 170,000 miles ago since we brought a new truck home, but Sunday we did it again! Got a great deal on a 2013 1 ton dodge with almost $11,000 off of the factory MSRP! Now we have a smart truck to go with our smart phones! Click on left photo for our new truck and the right photo for the June 2005 newsletter when we brought that one home!
AVOIDING THE MUD!
| | |
| --- | --- |
| | (March 3, 2014) Our main route off the highway to our home is about 9 miles long. 8 of those are decomposed granite treated with sodium chloride that becomes a gooey, gusshy mess when soaked! This mess gets up under your vehicle and if not caught early turns into a hard concrete type paste that likes to corrode metal. To avoid that knowing Kathy was on her way from California the following weekend, I left early and dry camped on the other side of the valley where the roads are untreated. Then it was off to the Grand Sierra for our weekend of fun! Click on photo for more! |
CONGRATULATIONS!
| | |
| --- | --- |
| (March 1, 2014) The Valice family is expecting! Looks like around September 14th or so we will have a new grand child. Still don't know if it's a him or her though...... Click on photo for more! | |
GETTING CLOSER!
| | |
| --- | --- |
| | (February 25, 2014) Kathy, Ann and I traveled to San Francisco for two days last Thursday and Friday for tests regarding the kidney transplant. All good news so far as the cardioligist approved Ann for surgery and Kathy's kidneys look great. Just waiting for tissue matches and then we will get on the schedule. Thanks to Jenna who lives in SF as she helped out alot in the running around! Click on photo for more! |