EVACUATED AGAIN!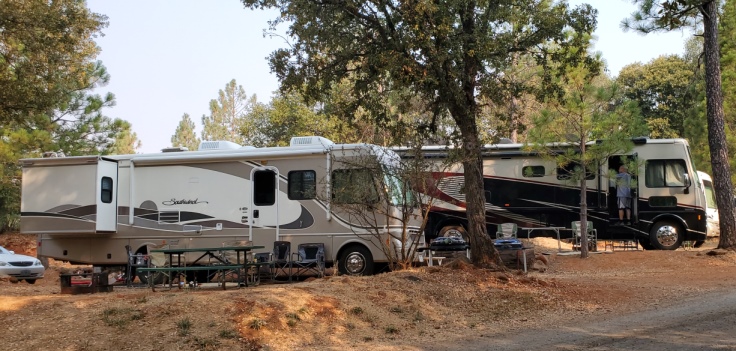 (August 20th, 2020) We arrived here yesterday in Ashley Brown's town of Groveland, CA along with her parents, Scot and Ann. We were slated for 5 nights here with Sean, Mariah, Scarlette, Severn, Sawyer, Danny and Jill arriving Saturday. That all changed today (Our anniversary by the way) when we returned from a quick trip to the valley and started cooking our meal. Ashley called and said that the roads West were closed due to fire and that mandatory evaquations were being issued. Then the power went out as dinner was about ready, ashes started falling like snow so dinner went in the refridgerator and we packed up and hit the road. The only way out for us in our motorhomes was East over Tioga Pass Road. This is a very steep narrow road that peaks at almost 10,000 feet. Compound that, darkness would soon be here. We ended up in Lee Vining, CA at 10:00 pm parking on the side of 395 for the night. Click on photo for more pictures!
GOOD TIMES CONTINUE IN MONTANA!
(August 9th, 2020) Yesterday Ben, Michel, Justin and Melissa went out fishing and they all caught at least two fish each! Ben and Michel were great hosts showing the kids around Montana and the lifestyle that they have here. Click on photo for more pictures!
GLACIER PARK AND BIG FORK!
(August 7th, 2020) On our 4th day here at the Francis mansion and having a great time. Justin and Melissa came in the other night and kicked things up another notch! Click on photo for more pictures!
VIRGINIA CITY!
| | |
| --- | --- |
| (August 2nd, 2020) It's been 3 years since we've been to Montana and 4 since we've been to Ben and Michel's. We are taking care of that this trip plus Justin and Melissa will be flying in next Wednesday. Spent a few days in Dillion, Montana so we could explore the ghost town of Bannack, and the historic city Virgina City with its neighbor Nevada City. Click on photo for more pictures! | |