YOUR KIDDING, SHE'S 90?
| | |
| --- | --- |
| | (June 26th, 2021) 10 years ago it was much the same title at Mom's 80th. Click HERE to see that months webpage,This time instead of Bob and Sina's house we held it at Scot and Ann's with a little more parking. Just under 100 attendees showed up for the party to make it a great 90th. Can't wait to see what the 100th party will be like! We also celebrated the Milestone birthdays that were missed in 2020 due to covid. Thanks to Jamie Rudolph who took his time and talents to take most of the pictures along with Jenna. I also borrowed some from Facebook and thank you for those pictures too! Click on photo for more pictures! There are so many pictures, click HERE for the halfway point! |
SWIMMING AT THE BROWNS!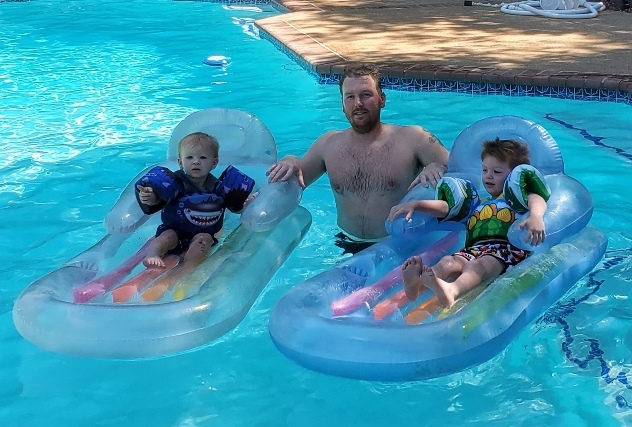 (June 18th, 2021) Matt brought the boys over to swim with us and Torie bonded with Easton! Daisy learned to swim too plus Jeff taught her how to howl. Click on photo for more pictures!
WE MEET AGAIN!
| | |
| --- | --- |
| (May 30th, 2021) We met up with Jim and Carole again after meeting them in IOWA when we were at the Winnebago factory. Carole had fallen and broke her Femur in November, spent 90 days in the hospital and still faces more surgeries. They brought their cat "PK over to the campsite too! Click on photo for more pictures! | |